Bombay Bicycle Club - Uebel & Gefährlich - 13. February 2014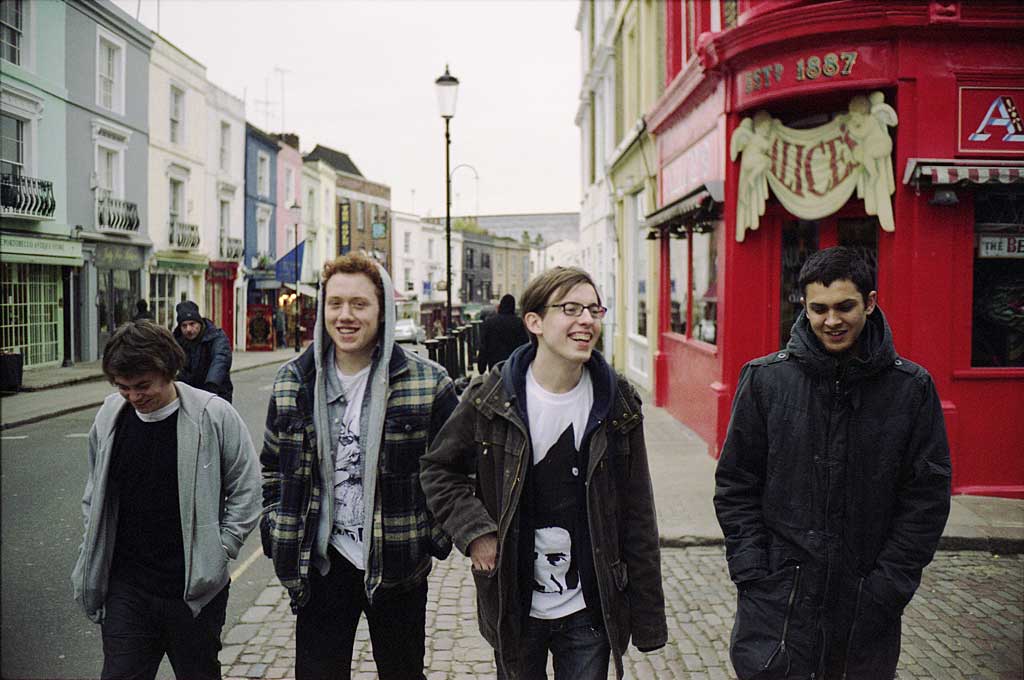 On tumblr I got asked the last weekend which concert I would want to go if someone gives me a concert ticket right now. I answered I would want to go to Bombay Bicycle Club because they would be in Hamburg this week. During the time my roomie bought the tickets some months ago I had no money, so I thought I couldn't go and was particulary sad. But then a friend cancelled on him and he asked if I want to go. I would say, it was ment to be.
The concert started at 9pm. I really hate when concerts start so late. When I think about Japan, when most concerts begin around 5 or 6 in the afternoon, maybe 7 but that is the latest, so everyone can come how alright with the trains afterwards. Support band was The Ramona Flowers. The name is of the girl in the movie Scott Pilgrim, my roomie told me, which I forgot because it's way too long ago. They had a good beat, but were merely boring. Nothing really happened on stage. I mean, it's a small one at that location, but I have seen Bonaparte pull it off on that one, so I know what's possible. They had some electronic elements, which were nice, but really hard for their rhythm-guitarrist to multi-task it. So there were some mistakes, as far as I could hear. The quality of the sound at that location is usually not very good, but I still like it because it has character. Bad bands always sound better with crappy sound, it's just bad for the good bands, who actually need a good sound to present their music properly. Anyway, not everyone can be like Rou Reynolds of Enter Shikari, who has a big mixing table on stage, producing all their sounds perfectly while singing, screaming, climbing all over stage, taking everything down and be right back on time for the next bleep.
Anyway I picked some music out for you in case you are still curious. The ones I found are not bad, easy listening.
Here
&
here
.
The background of the stage was already decorated with the logo of the new album of BBC, So long, See you tomorrow. The support played around 30 minutes and then another 30 minutes for the new set up. Overpunctually Bombay Bicycle Club came on stage at 10pm.
I tried to remember the playlist as best as I could. I knew around 60% of the songs they played, the rest were all of the new album, which I havn't listened to before, but now I did and I know which songs they played. I wouldn't bet money that I got the setlist right, but I think I'm close. It started with three songs of the new album. The first one was
Overdone
, which at first startled me a bit, but now after listening to the original I understand it better. The second one was
It's Alright Now
, which I actually knew, because the band had posted it on Facebook before the album was released. I havn't listened to it that often, but it goes so easy into the ear, even after a few repeats you feel like you know it already for years in a good way. '
Made a plan to be someone, mess it up when the moment comes, step away step away stay numb.'
Another one was Come To. I could see that the bassist had mainly closed his eyes all the time while he was playing. I must say I really like it when you can actually hear the bassist and when he is not just there for the rhythm. I also could see how light the hair grows of the vocal of the band (no, I won't learn their names.). Not that it matters. I really like how distinguished his voice is, you can recognise it everywhere. After that followed one of my favourite songs: Shuffle. I think around this time the keyboarder and the backing vocal girl went behind the stage and left the drummer, bassist, rhythm guitarrist and the vocal, who is also first guitarrist. That is something I really admire, when someone is vocal and also not just rhythm, but first guitarrist.
'Once you get the feeling it wants you back for more, says it's gonna heal it but you won't make the call'.
This is just one of those songs where you can't stop to wiggle. Somtimes you just saw the shapes of the band on stage and how they wiggled and jiggled synchronously. Following they played
Your Eyes
, as far as I believe.
'Along the barren streets we slide, poke at any dirt we find
Magnify for us to see, then dig them up desperately
I would promise all I could, think about it afterward
Humor me just think it through, it's all I ever asked of you.'
The next one was a song, that is everybodies darling and I won't deny that I love it to bits. I'm just not sure why.
How Can You Swallow So Much Sleep
– somehow my mind always finds back to this song these couple of weeks. It made me tear up a bit. Sometimes it looked like the vocal would disappear between smoke and light and you could only hear him, but not see. '
There's a story in which my eyes shut.'
The next one is full of surprises and I love it because it gets really noisy and grungy at the end,
Lamplight
. And before they started to play new songs again, they also had
Evening/Morning
on their list. That was the queue for the keyboarder and the backing vocal girl to come back. The girl was guided to the front by the vocal, so that they sing the next song together. I believe it is that way, because they had her voice included in the new album quite often. She sings very beautifully and it just fits perfectly in
Home by Now
. Also of the new album was Feel. I really like the sound the new album has, they tried to put in some other influences, oriental and mediteran. But they don't go too far with it, which is good as well. Following was one of the older ones again, Lights Out, Words Gone.
'Keep your old and wasted words, my heart is breaking like you heard, but the town has always turned, these lies and made them all burn.'
This song was made for everyone to swing lightly from right to left or left to right, as you prefer. The vocal then annouced the next song,
Eyes Off You
, where the lights were just on him and a keyboard. At first he played alone, then later the others joined him for a short while just to disappear and let him play alone again. It's a very romantic piece and was joined by two other sngs of the new album,
Whenever, Wherever
&
Luna
. Last one is part psychedelic and part hymnal. I could see how big the amount of musical instruments was, kind of like a childrens orchestra. The shacking egg, the triangle, the block of wood, the tambourine, also two keyboards and a second smaller drumkit. That is something I love, when the drums get so big and loud, makes me really emotional.
Then there were two songs I knew again. First
Always Like This
. When I'm alone at home and this song is running I'm singing the '
I'm not whole
' as loud as I can. At the concert I could hear, that I'm not the only one. The Vocal led us sing and the bassist was finally opening his eyes and smiled a cuddly smile. Here they changed some of the scales that usually go up in the original, live they went down and the other way round. Also they used different dissonances.
'Oh she can wait,
For what I can give,
She knows what I am but,
She won't believe me,
Is it all ok?'
The concert was coming to an end, you could feel it.
What If
was followed by a new song called
So long, See You Tomorrow
. I loved this one in particular live. It's kind of psychedelic at the end and even the guy infront of me with the big hair who was barely moving all the time, started to swing his curls, when it started to get faster.
Then there was a short break, everyone waiting for the encore. The encore consisted of one song,
Carry Me
, which I already knew, because they posted it on Facebook as well. The song is at first listening quite disruptant, but that is what I like about it and it came out to be a good choice for the final song.
'If anybody wants to know, our love is getting low, lighting the cracks in the road.'
The concert was way too short and over way too fast, sadly not because it was so good that the time ran (it was good, don't get me wrong!), but because it was just not that long. We walked out around 11:20 pm.
I hope I gave you a good impression of the concert and maybe you liked what you heard. Give yourself a treat today!
Cheers, mates~